December 19th, 2007
Hope is growing way to fast. She never lost any weight, she actually gained 4 ounces her first 3 days of life and at 3 weeks one day she was up to 10 pounds 4 ounces, 22 inches. So she has already out grown her newborn diapers and her 0-3 month clothes. She fits perfect in 3-6 month clothes, so much so that I doubt they will fit by the time she is 3 months. Ian was 2 lbs 6.3 oz when he as 3 weeks. 
Here are some pics from when she was a week and a half…
She is wearing a 6-9 month onesie here.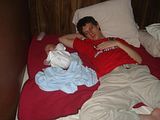 And here are some Ian pics. He wanted me to take a picture of his blocks.
And some new Hope pics from tonight, the red light from the camera blinded her so they arent very good. Thats a 3-6 month outfit…