August 30th, 2007
Well I am officially at the 28 week mark which just so happens to be the farthest along I have ever made it in a pregnancy. Ian was born at 28 weeks on the dot, on a Saturday morning. My 28 week mark this time around was also on a Saturday. Still no signs of pre e although I did freak myself out over it this last weekend. We got a new bed last week (its memory foam, mmmm) and its helped my sleeping and back aches a ton. Jason went back to school this past Monday and Ian seems to be fine with it being just me and him during the day again. 
Here are some belly shots, click to enlarge. The first picture has Ians doll in it, its made to his exact measurments. I am guessing thats close to the size of the baby now (actually I can tell this one is bigger then he was).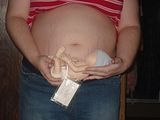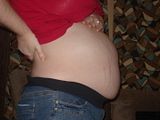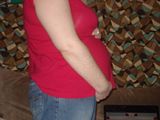 ~~~~~~~~~~~~~~~~~~~~~~~~~~~~~~~~~~~
4 years ago Jason and I were married. Nothing spectacular, we didnt even have a picture taken. I love him more now then I ever.
~~~~~~~~~~~~~~~~~~~~~~~~~~~~~~~~~~~
I thought Ian had hand foot and mouth disease a couple of weeks ago. Turn out that the rash spread everywhere and we never could figure out what it was. He didnt run a fever, he wasnt overly itchy, mood stayed the same as always. At any rate it he still has spots but they dont look all that bad.